Peter the Lop
In these pictures, I am (the dutiful slave) cleaning Peters bathtub while he carefully watches and inspects as I go!
Click on a picture to see a full size image
Back to the first page of Peters pictures
On to more pictures of Peter when he splash landed in a tub full of water!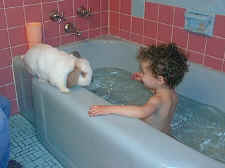 This picture shows Peter the lop inspecting Matthew's bath.